FUKUMOTO AUSTIN
EDOMAE SUSHI + IZAKAYA YAKITORI
Fukumoto is a Japanese izakaya specializing in traditional sushi and yakitori. I met Chef Kazu Fukumoto at the Austin Food + Wine Festival this year and fell in love with his passion for experiential food! I'm a marathon meal type of person and meals at Fukumoto are served gradually over several courses, rather than all at once. Aka, my people! Fukumoto perfectly pairs Japanese gastropub cuisine, yakitori and edomae sushi with Japanese sake offering a truly unique dining experience.
Kazu Fukumoto was born in the northern shore of Japan's Kyushu Island, Fukuoka. In 1999, he began his culinary career starting as a dishwasher at Musashino Sushi Dokoro and worked his way up to become a sushi chef under the apprenticeship of the owner and chef - Smokey Fuse.
Kazu continued to hone his skills for 10 years as Head Sushi Chef at Musashino. After departing from Musashino, Kazu traveled back to Japan to study traditional yakitori at Hiroya Yakitori in Tokyo.
In September 2015, all his hard work paid off when he opened Fukumoto: Sushi & Yakitori Izakaya, serving up traditional Japanese cuisine in a casual gastropub setting. He loves to share his passion for food with everyone around him and continues to do so with his evolving menu.
IZAKAYA
An Izakaya is a type of Japanese gastropub - a relaxed, casual atmosphere where the beer and sake flow in abundance, always accompanied by a tantalizing variety of foods. Patrons eat, drink, and chat at a relaxing pace, and often the social aspect of an Izakaya is just as important as the quality of its wares.
YAKITORI
Yakitori is one of the pillars of Izakaya cuisine. Skewered meats and veggies are grilled over charcoal called binchotan - made from branches of Japanese White Oak. Although seemingly simple, this traditional method of grilling produces complex and unique flavors.
EDOMAE SUSHI
Edomae Sushi is a traditional style of Japanese cuisine combining vinegared rice with another ingredient, typically raw fish. Its techniques have been handed down through generations in time-honored apprenticeships. The Edo style focuses on tradition and simplicity, using technique to enhance the natural flavors of the ingredients.
When you visit Fukumoto, ask to sit by Chef and watch him work his magic! It makes every bite taste a little more special!
Don't forget to try the gorgeous tofu dessert!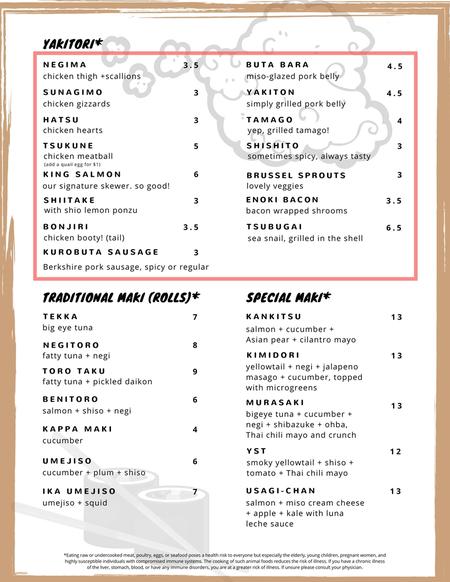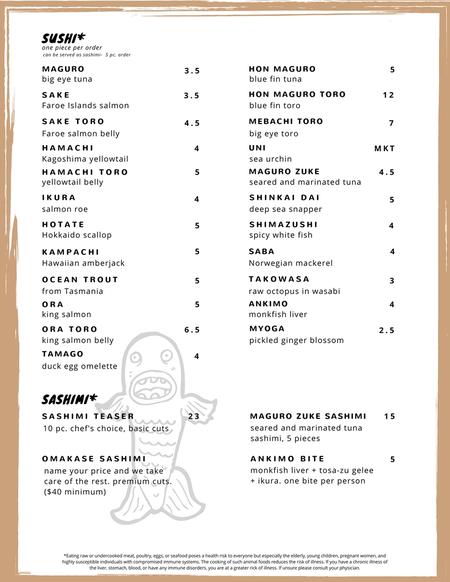 LOCATION & HOURS
514 Medina St Austin, Texas 78702
MONDAY - THURSDAY 5PM - 10PM
FRIDAY & SATURDAY 5PM - 11PM
RESERVATIONS: 512-770-6880
PARKING
3 hour validated parking is available in the Corazon Garage located on San Marcos between 5th and 6th Street.